2020 CanTRA Awards
The 2020 CanTRA Award winners have been selected.
We're honored to present the Outstanding Volunteer of the Year, Outstanding Instructor of the Year, Outstanding Administrator of the Year and Therapy Horse of the Year.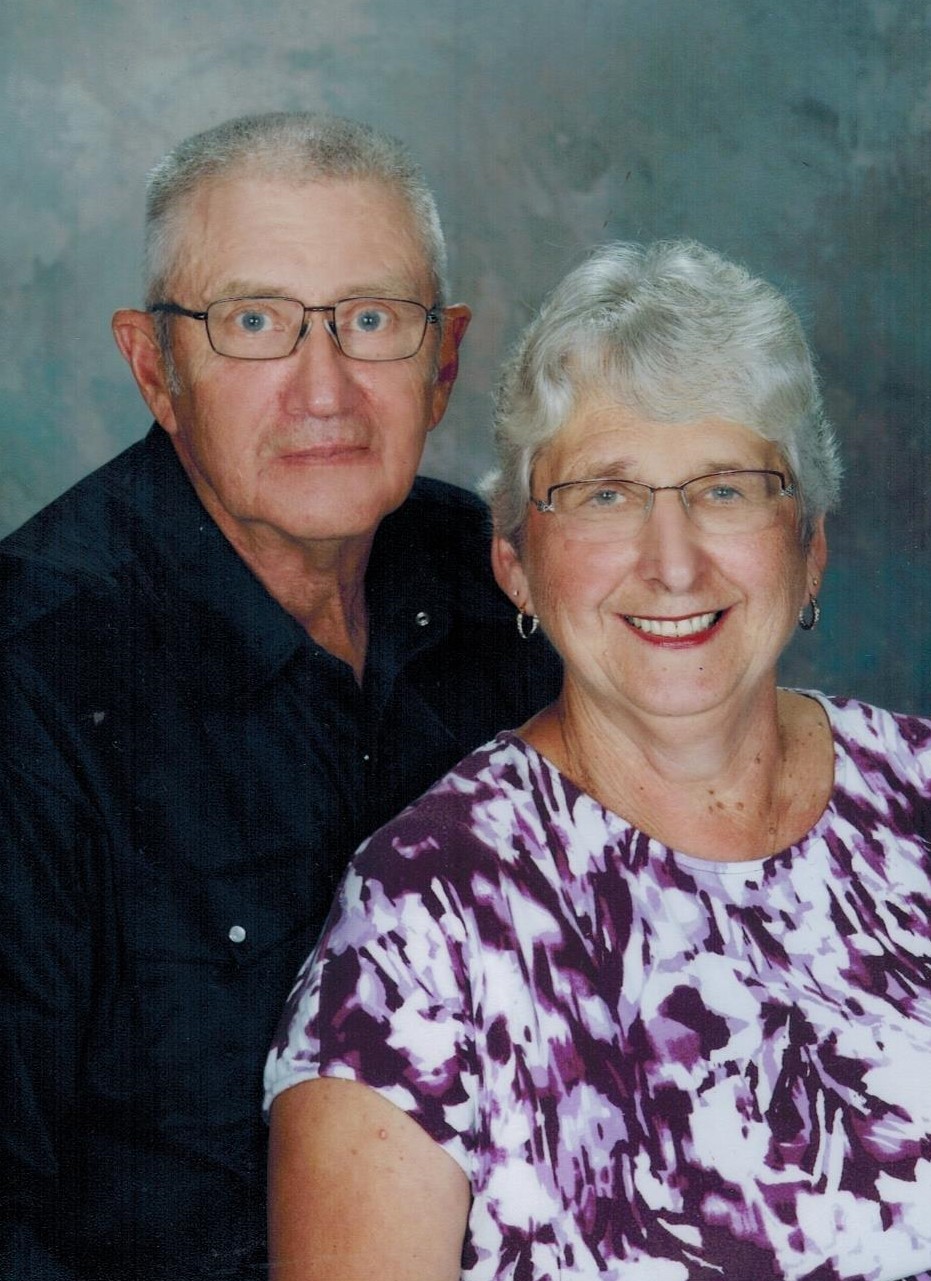 Rhonda Davies Award: Outstanding Volunteer
Sponsor: John and Donna Davies
Recipient: Brenda & Wayne Singbeil - (VTEA) Valley Therapeutic Equestrian Centre for, Aldergrove, BC
"They are our 'Dynamic Duo', and to nominate one without the other, would be like trying to separate yin from the yang - it is simply not possible." - Lynn Moseley, Director, VTEA
Eleven years ago, the Valley Therapeutic Equestrian Centre (VTEA) relocated to its current location across the street from the Singbeils. What started as a simple act of kindness, helping a neighbour during a snowstorm, blossomed into one of the most dedicated relationships in VTEA's history.
Volunteers are the backbone and the breadth of the organization. From the everyday tinkering that keeps the facilities running smoothly, to governing through the toughest of economic climates, the Singbeils have been there for VTEA. As Board Secretary, Brenda is very involved behind the scenes. She works dilegently on policy and procedure protocols, keeps track of volunteers' hours and is a key organizer with fundraisers and events.
Wayne wears many hats around VTEA. Ever the handyman, from building paddocks, to installing sprinkler systems, and harrowing the arena, he also volunteers his time leading and sidewalking in therapeutic lessons. And then he sits on the Board of Directors.
Brenda and Wayne's investment in VTEA has even rubbed off on their grandchildren, who are now helping around the property!
"I hope that they continue to enjoy all that they do, as that is what keeps them coming back every day, and their spirit is infectious - something that every nonprofit organization needs." - Jackie van Dassen, CPA, CA,VTEA Interim President.
Photo: Courtesy of VTEA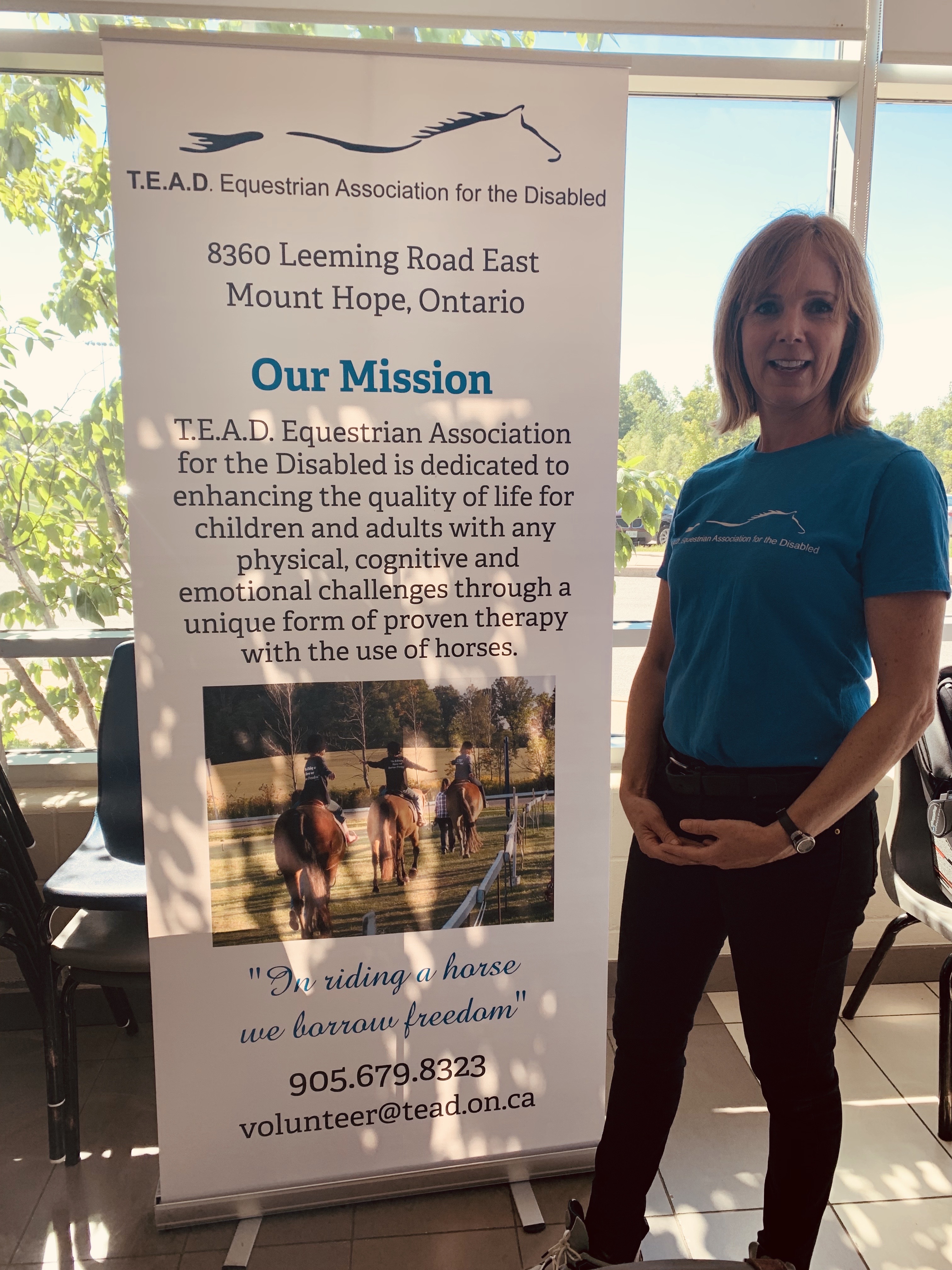 Andrea Gillies Award: Outstanding Instructor
Sponsor: Gay Wood
Recipient: Kerry Houlding - (TEAD) Therapeutic Equestrian Association for the Disabled, Mount Hope, ON
"Kerry is a pretty special lady. To know her is to love and admire her!" - Hilary Webb CanTRA Coach Examiner.
In 2001 Kerry started at TEAD as a volunteer. With a Masters in Behavioural Science and her work in the intensive behavioural intervention helping children with Autism, she was an asset to the program. After completing more than 100 volunteer hours, it was inevitable for her to step into the study and process to achieve her CanTRA instructor certification.
In 2019 Kerry decided to continue building up on her skill set and experience. Contacting the CanTRA Equine Facilited Wellness (EFW) committee, she set about acquiring all of the qualifications needed to become a certfied EFW Mental Health Professional. While working towards her qualification, she designed, marketed and implemented the "Equine-Assisted Social and Relational Skills Building Unmounted Program' at TEAD. Programs such as this are paramount in alternative therapies, meeting a variety of special needs.
"An open mind and fluidity are other beautiful qualities that Kerry domonstrates, and it sets her apart from other instructors. She finds that certain connection point, and she compassionately understands that abilities are not a static thing. She realizes that what people can tolerate, fluctuates from day to day and one lesson to the next. Kerry has this unique ability to ensure as much benefit and joy is gained from each experience as possible." - Amelia Kowalsyshyn, Mom of 3 riders.
Photo: Courtesty of TEAD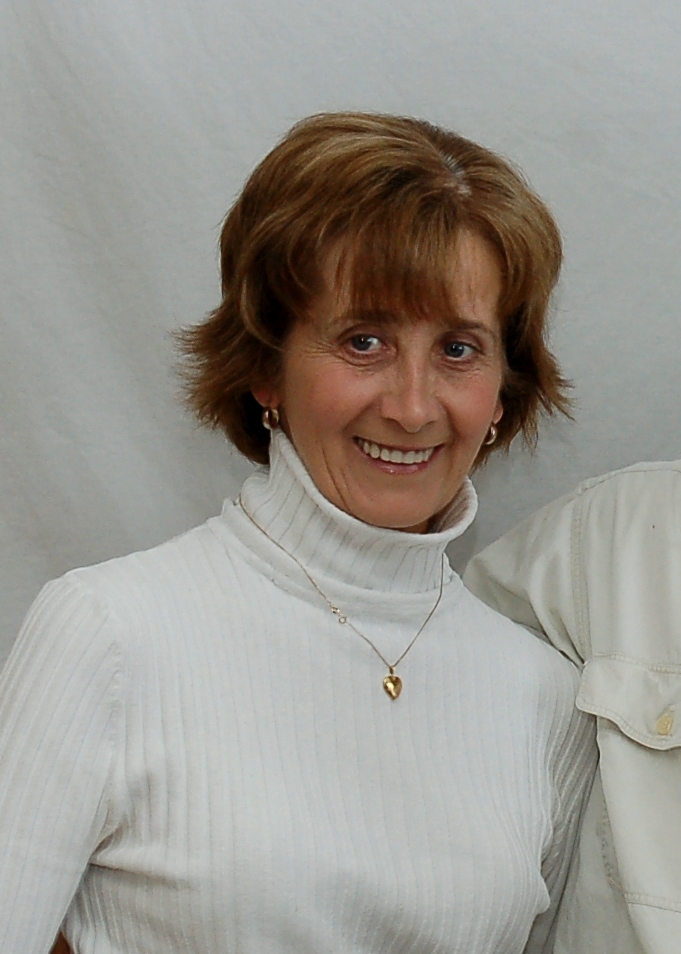 Marian Chartley Award: Outstanding Administrator
Sponsor: JoAnn Thompson Franklin
Recipient: Roberta Landry - Cavalier Riding Club, Irishtown, NB
"This lady goes above and beyond for the club every single day; you could say she's the backbone'...truly."
In 1998 Roberta and her husband Jim, bought a farm in Riverview, NB, that housed the Cavalier Riding Club. They both wanted to see the program continue, and Roberta immediately became immersed in the club. Attending lessons each night, first as a respresentative of the farm, she quickly joined in as a horse handler and sidewalker, whatever was needed. She always made sure that the ring was clean and ready for the club, helping out around the barn with grooming, tacking and organizing volunteers. As time passed, Roberta became a member of the Board of Directors, instrumental with fundraising and administration. To this day, she takes on the vital task of coordinating the rider schedules, which is not an easy job. With many phone calls and a lot of discussions, she sets each rider in the right lesson that works with everyone's schedule. Over the past few years, Roberta held the position of Vice President and stepped into the President's seat when it became necessary. In that role Roberta managed and oversaw the relocation of the club to another property, their current home in Irishtown.
Photo courtesy of Roberta Landry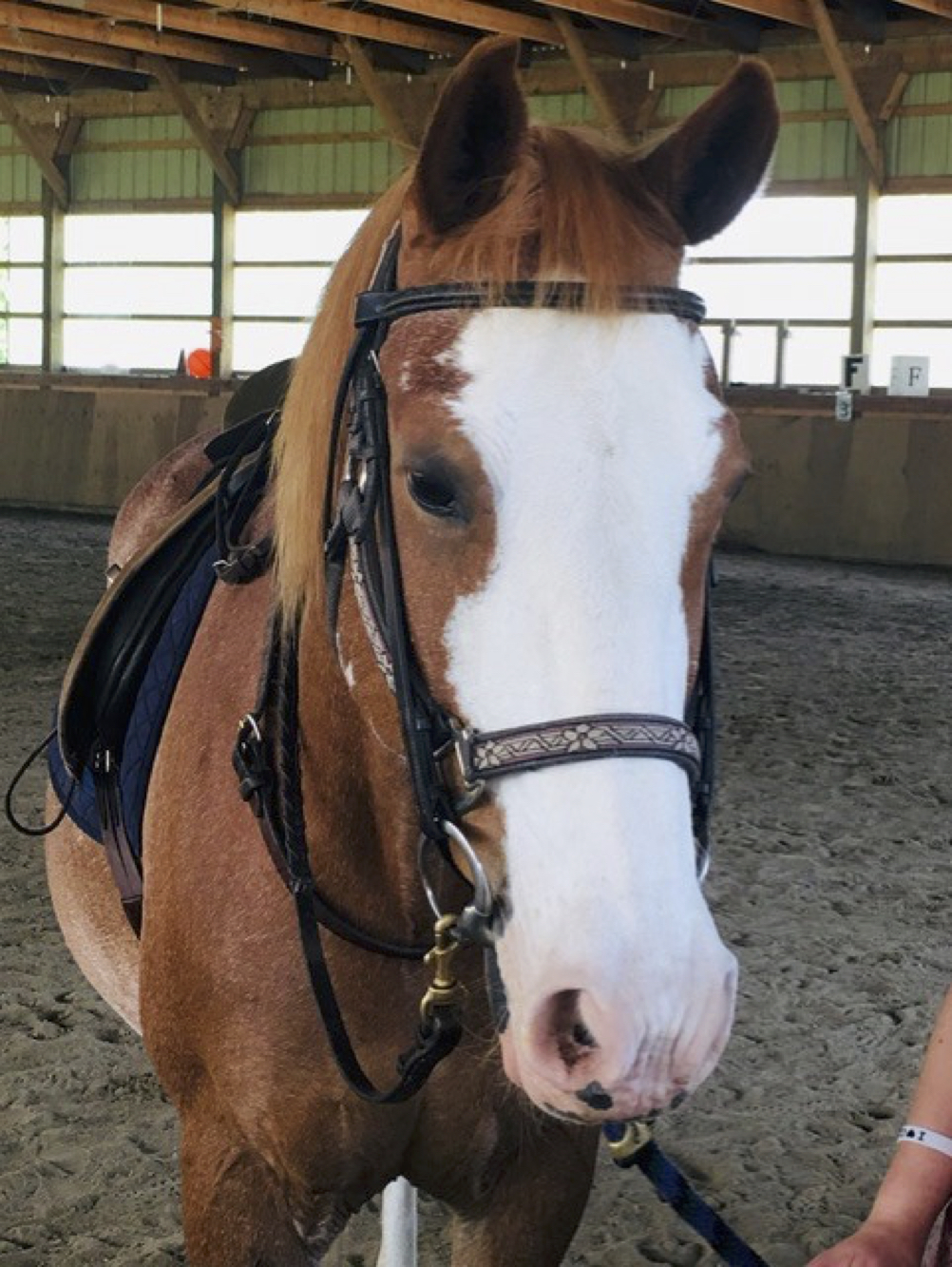 CanTRA Therapy Horse
Sponsor: Manning Equine Vet Services
Recipient: Rusty's Moon (aka Rosie) - (VTEA) Valley Therapeutic Equestrian Association, Aldergrove, BC
"The sweetest mare you will ever meet. Rosie has the kindest temperment and the heart of an angel. Always ready to work always ready to please. She loves her job, and it shows." - Lynn Moseley, Director, VTEA
This striking Red Roan 'Splash" Overo (per APHA website) Paint mare, Rosie has "been there done that." Rosie had worked as a lesson horse throughout her career and landed at VTEA when her current owner began volunteering with them over five years ago. When used for Hippotherapy, Rosie is relied upon to provide steady and robust movement. Her personality shines when she is working with some of VTEA's more timid riders. Rosie touched the heart and soul of one rider in particular - that of Fran McGuckin.
Rosie and Fran became partners in VTEA's Senior's Hippotherapy pilot project. At age 69, with severe chronic obstructive pulmonary disease and a brain injury from a motor vehicle accident, 15 years earlier, Fran suffers many residual effects, including anxiety and depression. The confidence, joy, and peace of mind restored in Fran through her interactions with Rosie became the impetus to write again. Their story is now part of the popular collected series Chicken Soup for the Soul: Think Positive, Live Happy
"While the job of a therapy horse is not an easy one, Rosie does it with such grace and willingness; she is one of the cornerstones of Valley." - Kristen Griffin, Director, VTEA
Photo: Courtesty of VTEA