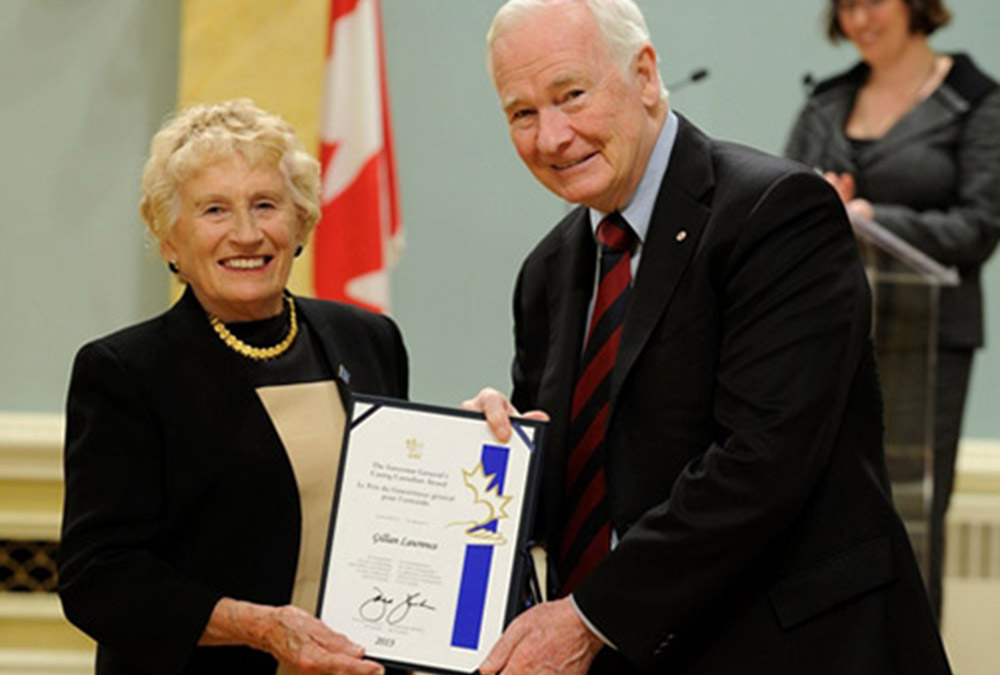 Dr. Gillian Lawrence
It is with a heavy heart that we share the news of the recent death of Dr. Gillian Lawrence. We can scarcely believe this day has arrived, for she was the heart and soul--the weft and warp--of CanTRA for many years. As a founding board member, former president, and commitee member (particularly developing the medical section of the instructor's manual), Gillian's influence has been beyond measure. She raised a family, was a family physician, rode horses, ran a therapeutic riding centre, mentored other centres, became a para-equestrian classifier and Canadian dressage team chef d'équipe, and was honoured with many awards.
Through it all, she was cheerful, energetic, fun, full of adventure (and the subject of many great stories). And always humble.
In 2014, CanTRA sponsored Gillian for the Governor General's Caring Canadian Award, which she received at Rideau Hall, Ottawa. But while we have lost Gillian in person, we are blessed with all the benefits of her contribution to CanTRA and to therapeutic riding in Canada and internationally. All her hard work lives on in what we all do today for children and adults with disabilites.
Jeanne Greenberg (née Greenspoon), Passed away on Wednesday August 1, 2018 in her 96th year. Jeanne was a true visionary and a passionate advocate for children with special needs, leading her to the founding of Special Ability Riding Institute (SARI) over 40 years ago. Jeanne saw, first hand in her daughter Sari and thousands of special needs children since, the therapeutic effects of riding horses. Funeral Service wil be conducted at Or Shalome Synagogue, 534 Huron Street, London ON on Friday August 3rd at 11:00 am.